Top Five Things To Look For In A Flooring Sales & Contractor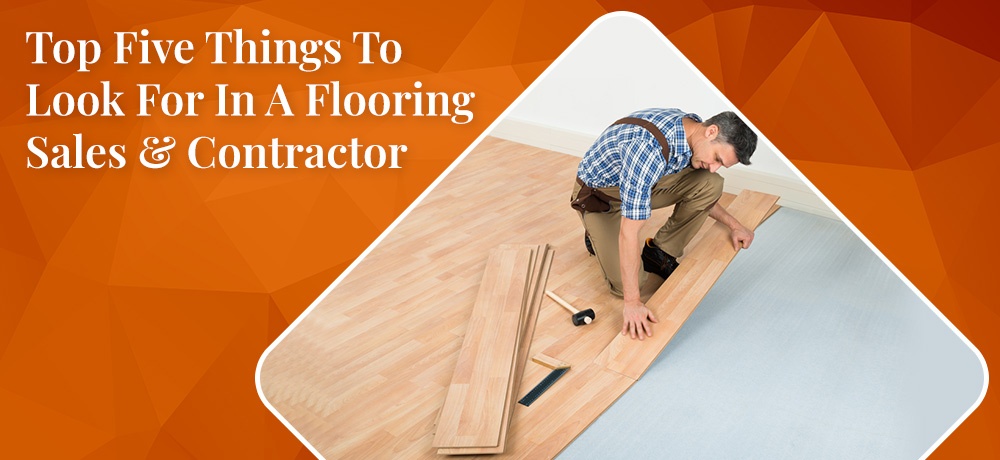 Whether you're constructing from the ground up or simply renovating your house, your flooring preferences will help you lay a solid foundation for your abode's interior style. However, the slightest error is enough to mess up your flooring while installing it. One slightly misplaced board can potentially throw off the flooring project and be challenging to cover up.
By hiring a professional flooring sales and contractor, you effectively rule out the chances of errors and ensure that you get flooring that not only impresses, but also lasts a lifetime. The challenge, however, lies in choosing a specialist that will help craft your dreams into reality.
To simplify this process for you, here are the top five things to look for in a flooring sales and contractor.
1. Experience
When choosing a flooring contractor, request references from them. Check their online reputation. A contractor's reputation and years of experience are worth their weight in gold when considering hiring someone. If you're going ahead with vinyl plank flooring, you should be interested in knowing about the contractor's experience with installing that specific type of flooring.
2. Knowledge
A flooring installation specialist must have knowledge about the various kinds of flooring like hardwood, laminate, vinyl, ceramic, etc. They should know to help you choose the type of flooring that would suit your house based on several factors such as weather, nature of construction, and the overall design of your home.
3. Quality
You usually get what you pay for. Some contractors sell similar products for a "lower" price. However, this could end up being more expensive in the long run because you might have to replace them sooner, owing to quality issues. If the quoted price is too good to be true - it indeed might be too good to be true. Try not to cut corners and save a few dollars here and there because you risk compromising quality.
4. Pricing
Before hiring your flooring contractor, ask upfront about the costs involved in your flooring project. What is the payment schedule? Do you need to make an upfront payment to get the project started? By when is the final payment due? Attract bids from a few different flooring contractors and look at what's included, which could differ, so you can get a realistic idea of what a fair rate would be for your budget.
5. Reviews and ratings
You can assess the reliability and expertise of a contractor by looking at their reviews and ratings. The established flooring contractors will always post reviews of their past clients on their website. You should check their ratings and read testimonials on their social media channels.
If you're looking for a qualified flooring sales and contractor, reach out to DMC Surfaces Outlet - Hardwood, Laminate, Luxury Vinyl Plank Flooring and Countertop. DMC Surfaces is headquartered in Port Coquitlam, BC, Canada – with a service reach that extends throughout the Greater Vancouver Area. We are a leading flooring and countertop provider and installation company, and our primary focus is on YOU, our customer. Whether it's a large project or small, we provide our customers with precisely what they need, and exactly what they want.
We serve clients across Port Coquitlam, Coquitlam, Port Moody, Pitt Meadows, Maple Ridge, Langley, Surrey, New Westminster, Anmore, Belcarra, Burnaby, White Rock and Mission, BC.
For a complete list of our products, please click here. If you have any questions regarding your flooring needs, we'd love to hear from you. Please contact us here.